Our FORC Brand of OEM Fiber Optic Equipment
Including Our New F15S & F1S Fusion Splicers
We created our new line of FORC OEM fiber optic equipment to offer customers high quality fusion splicers and OTDR's that can compete with the more expensive brands. Both our Core Alignment and Clad Alignment fusion splicer were designed in consultation with our expert technical team keeping the user in mind.
FORC fusion splicers and OTDR come with a 3 year warranty.
Introducing Our Newest Fusion Splicers
FORC fusion splicers deliver ultra fast splicing times and have an incredibly short shrinking time. These splicers use an extremely accurate alignment process to ensure precise splice loss estimations. A new shrinking technology greatly reduces the shrink time, thus resulting in an extremely fast total cycle time. These splicers are rugged and ready to take on any work environment. Designed for FTTH and Outside plant applications.

Our FORC MINI2 OTDR features include high precision test capabilities, fast response times, and easy to learn operation. The multi-point capacitive touch screen allows for user-friendly operation. The MINI2 OTDR offers accurate and fast test results and creates a report automatically.

At FiberOptic Resale Corp we have a broad range of expertise on the most popular equipment saving you time, money and the inconvenience of sending your fusion splicers & cleavers to multiple OEMs. Let us keep your fiber optic equipment operating like new.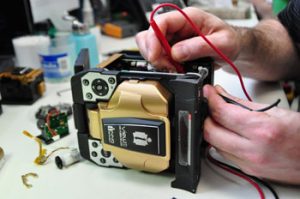 Technical diagnosis and estimation of repairs
Detailed documentation on work completed
Pre & post sales technical support